Samsung launched nine devices, including Galaxy Fold, S10, S10 Plus and S10e at its Unpacked event held in San Francisco on Wednesday. Although headlined by the aforementioned devices, the event also saw the launch of the Samsung Galaxy Watch Active, Galaxy Fit and Galaxy Buds.
The Galaxy S10 family comes with a completely refreshed design—a near bezel-less Infinity-O display at the front with a laser cut hole to accommodate the front-facing camera(s) and horizontally placed rear camera system.
The changes obviously aren't just cosmetic—the innards have received an upgrade as well. Samsung's Exynos 9820 or Qualcomm's Snapdragon 855 SoC is standard on all devices. Memory and storage options range from 6GB RAM and 128GB internal storage on the base Galaxy S10e all the way up to a whopping 12GB of RAM and a terabyte of internal storage on the Galaxy S10 Plus. All Galaxy S10 variants run Samsung's new One UI based on Android Pie 9.
Other specifications like front and rear cameras, fingerprint sensors and battery capacities differ from model to model. Here's how they look:
Samsung Galaxy S10:
Undoubtedly the most anticipated device of the lot, the Galaxy S10 boasts a 6.1-inch Dynamic AMOLED display with QHD+ resolution. The Infinity-O cutout here is for a single camera—a 10MP clicker.
Underneath the display is an ultrasonic in-display fingerprint sensor, which can produce 3D scans of a user's fingerprints accurate to the pores.
As mentioned before, it is powered by the Snapdragon 855 chipset but is paired either with 8GB of RAM and 128GB internal storage or 12GB of RAM 512GB of storage. It is backed by 3,400mAh battery. It also supports reverse wireless charge, which seems to be borrowed from the Huawei Mate 20 Pro. It is especially useful for charging accessories like the Galaxy Buds, but not other smartphones.
The triple camera setup includes a 12MP telephoto lens with autofocus, f/2.4 aperture, and OIS), 12MP wide-angle sensor with dual aperture ranging from f/1.5 to /f2.4 and a 77-degree field of view and finally an ultra wide-angle 16MP sensor with f/2.2 aperture. The camera supports up to 10X digital zoom and 2x optical zoom.
The Galaxy S10 starts at $899 (about ₹64,000) for its base 8GB/128GB variant.
Samsung Galaxy S10 Plus: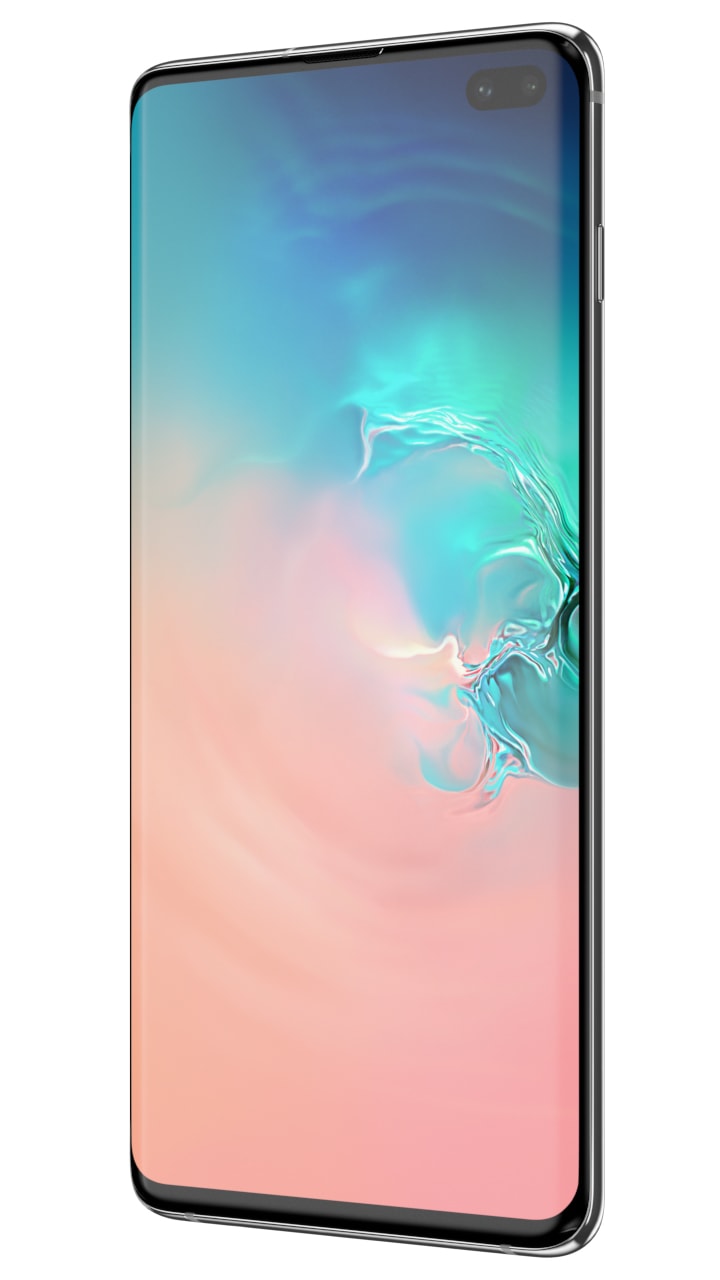 S10's bigger brother gets a larger display, spanning 6.4 inches with the same resolution. However, its cutout accommodates two cameras— a 10MP sensor with a wide angle lens (80-degree field of view) and an 8MP sensor with f/2.2 aperture.
It gets the same ultrasonic in-display fingerprint sensor, processor and rear cameras like the Galaxy S10.
It comes in three memory variants—8GB RAM with 128GB, 8GB RAM with 512GB internal storage and 12GB RAM with a terabyte of internal storage. It is backed by a 4,100mAh battery.
The Galaxy S10 Plus starts at $999 (about ₹71,000).
Samsung Galaxy S10e:
The Galaxy S10e is the more pocket-friendly variant of the S10 that directly rivals Apple's iPhone XR. It comes with a smaller 5.8-inch Full HD+ AMOLED display. The cutout houses a 10MP selfie camera while at the back it has dual cameras comprising a wide-angle 12MP sensor and ultra-wide 16MP sensor.
It is powered by the same processor as its bigger siblings but skips the ultrasonic in-display fingerprint sensor. Instead, it gets a side mounted optical fingerprint scanner embedded inside the lock button.
The Samsung Galaxy S10e is available in 6GB/128GB and 8GB/256GB RAM and storage options. It's backed by a 3,100mAh battery.
The Samsung Galaxy S10e starts at $749.
Samsung Galaxy S10 5G:
Okay, we lied. The Galaxy S10 has four variants, not three. The Samsung Galaxy S10 5G is the most expensive and over-the-top Galaxy ever, period. It has an enormous 6.7-inch screen and four rear cameras, consisting of the same three as the main S10 range and an additional 3D depth sensor for AR applications.
The Infinity-O cutout of the S10 5G is the largest among the lot as it houses a 10MP camera along with a 3D depth sensor.
The Galaxy S10 5G comes with 8GB of RAM and 256GB internal storage.
However, it will be launched later in the year, when the 5G networks start rolling out across the globe.
Samsung Galaxy Fold:
Think again if you were under the impression that the Galaxy S10 5G is the most ambitious smartphone launched in the Golden Gate Bridge city. That honour goes to the Galaxy Fold — Samsung's first foldable smartphone.
It has a 4.6-inch display while folded and a 7.3-inch display when unfolded.
Why a foldable display?
For starters, it can seamlessly transition from a smartphone form factor all the way to a full-blown tablet when required. It allows three-app multitasking while it is unfolded and the app continuity feature allows you to instantly pick up where you left off when switching between screens.
It comes with the whole shebang of 12GB RAM, 512GB internal storage and a 4,380mAh battery—one on each side of the fold. It will also get a 5G variant later in the year.
For now, it is priced at an eye-watering $1,980 (about ₹1.4 lakh) for the non-5G variant.
Samsung Galaxy Watch Active:
Samsung's answer to the Apple Watch comes with a circular 1.1-inch AMOLED display with 360x360 resolution. It is powered by a 230mAh battery and runs the latest version of Tizen, but includes Samsung's new One UI. It comes with a heart rate monitor that doubles up as a stress monitor, sleep monitor and has water-resistance to depths of 50 meters.
Samsung Galaxy Fit and Fit E:
The Galaxy Fit is a basic fitness tracker that can track your heart rate, steps, stress and sleep. On top of that, it can automatically track six different exercises. It weighs 24g and is water-proof to 50 meters.
At the front of it, it has a rectangular Super AMOLED screen. Samsung claims its battery lasts around a week.
The Samsung Galaxy Fit E, just like the S10e, is a stripped down version of the Galaxy Fit.
It is smaller and lighter than the Fit E. It carries many of the same features as the Fit E, including a heart rate monitor and 50-meter water resistance, but has a lower spec display and less battery capacity.
Samsung Galaxy Buds:
The Galaxy Buds are reminiscent of Apple's AirPods—wireless earphones offered with a charging case. The case can be wirelessly charged through the smartphones' Qi-charging compliant backs.
The buds run Bixby, Samsung's personal assistant. It lets you check your battery, control your Galaxy S10 or change the music by voice inputs.
The Buds will be backed by 58mAh batteries while the case will have a capacity of 252mAh.
The Galaxy Buds are priced at $149 (about ₹10,500).
For more trending news please subscribe to us.